Making a Reservation
Choose Thad's or Alice's Room and Dinner Selections with Innovative Gourmet Cuisine. There is traditionally one server per five guests. Guests have the opportunity to select courses from our cellar menu. The dinner is a "fixed menu", meaning all guests have the same item for each course, but hosts may pick their menu with confidence, knowing that we can handle any special dietary needs that will suit their guests. Please be aware that selected accompaniments may change at the chef's discretion, without notice, to ensure freshness and availability.

Captain's Table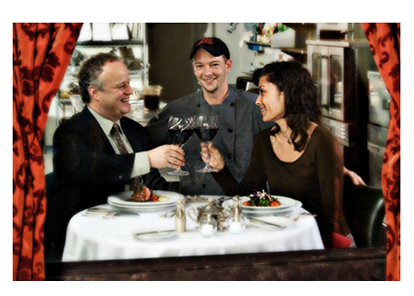 The Captain's Table is located in the Wine Cellar kitchen,adjacent to "Thad's Room", the larger of the two cellar rooms. You will be treated to an exclusive behind-the-sceneslook at the Wine Cellar kitchen operations,while you enjoy a gourmet dinner experience, personally prepared before your eyes by one of our top chefs. The chef will serve this scrumptious meal matched with carefully selected wines. During your meal you will tour the cellar that is recognized as having one of the top 100 wine lists in the world. Although you are in the midst of the kitchen activity, you will find there is a surprising level of privacy in a perfect blend of fine dining, with impeccable service and a feast for the eyes. Please join us at the Captain's Table in the Wine Cellar kitchen for a true taste of the Angus Barn.

Wine Selections
The Cellar Coordinator pairs wines to match each course perfectly. Hosts are quite welcome to assist in the wine selections. There is a per bottle surcharge if the host selects a wine that exceeds the wine allowance.

Pre-dinner Social A private bar in the wine cellar dining room is available with your choice of full spirits, beer & wine. The host may also choose to offer guests champagne only. There is no additional charge for the bar or bartender, and the orders will be added to the check.

Final Arrangements
The final count is required at least 48 hours prior to the party.

Payment Methods
We accept all major credit cards and cash.

Special Arrangements
We can assist the host with many final details: fresh flowers, Audio / Video equipment, transportation recommendations, live music, seating, and name tags.

Wine Cellar Tours
The Angus Barn owner may choose to bring a few guests to the cellar for a private tour. These tours will be done discreetly and are not available to the general public.

Booking Your Event
Request information about hosting your event, dinner, or special occasion or call Nicole at 919.987.1270 for reservations and further information. Please visit our events page to view special event wine cellar dinners. These events are open to the public and feature gourmet themed dinners such as the last dinner served on the Titanic.