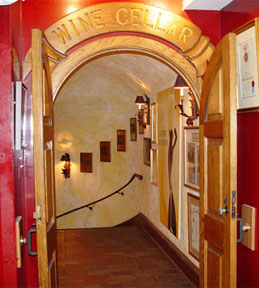 "Hospitality fit for a king," replies Van when you ask her for expressions that recall her late father, Thad, Jr. She remembers her father not only as a man of physical stature but one who dreamed big and entertained with larger than life warmth and graciousness. "Nobody visited his home or his restaurants without feeling like the most welcome guest."
As you descend the winding staircase leading to the wine cellar dining rooms, glancing at each of the prestigious 20 Wine Spectator magazine Grand Awards, you begin to feel Thad's celebrated hospitality. This is no ordinary hallway and staircase! Laborers used hand shovels, carefully removing earth for weeks to complete this magnificent structure. It took an extraordinary visionary to lay the foundation for such future grandeur, though he would not live to see the fulfillment of his vision.

Aiming to build a wine list that would rival any in California, he seized the opportunity to acquire wines that slowly, methodically became one of the most coveted wine lists in the U.S. Only a year after his passing, Alice and Van submitted the first entry to Wine Spectator magazine's competition that awards one of three levels of recognition to restaurants with exceptional wine programs. In 1989, Thad's devotion and Alice and Van's determination earned the Angus Barn its first of 20 prestigious Grand Awards, the highest honor bestowed upon a restaurant wine cellar.

Alice and Van were astonished to learn that only four Grand Awards had been awarded. The other restaurants that received the award were in France, Switzerland and California. Van recalls that when she and Alice were in New York City receiving the award, throughout the evening people asked, "Now, where exactly in Europe is Raleigh?" and "What part of California is Raleigh in?" In the world of wine, the Angus Barn had finally put Raleigh, North Carolina on the map!

Taking up the king-sized mantle Thad Eure, Jr. began required keen foresight and steely perseverance. Inspired by the first Grand Award and countless requests by guests to see wine in "the cages," Alice and Van forged ahead with plans to create a wine cellar dining room. Within one year, intensive construction transformed a basement with cases and cases of wine stacked throughout into the new, temperature- and humidity-controlled home for the award-winning wine collection and a dining room fit for a monarch. At last, guests could tour the cellar or indulge in a luxurious, lengthy five- or six-course gourmet dinner for 12-28 people paired with wines from an extensive international collection.

In celebration of the construction crew's impeccable work, the first dinner in the premier wine cellar dining room honored the labor workers who fulfilled Thad's vision. In May of 1991, Alice and Van opened the dining room to critical acclaim, and guests began booking the room for business dinners, anniversaries, birthdays, engagement dinners, lunches,brunches and every imaginable special occasion. The public response to this one-of-a-kind dining room demanded events and dinners designed to educate guests about wine and food. For example, in 2010, our wine cellar calendar of events included:
Valentine's Day Dinner; The Robert Mondavi Wine Dinner; the annual Dinner Aboard the Titanic; Chef Walter Royal's Teaching Kitchen; the annual Seafood Celebration Dinner, celebrating North Carolina's seafood industry; the annual Dinner with the Presidents, with visits from historic U.S. presidents, played to perfection by actors; the annual Murder Mystery Dinner; Haunted Wine Cellar Dinner; and, of course, the annual New Year's Eve Celebration. With such a full, active calendar, what could surpass one cellar dining room? A second dining room, of course!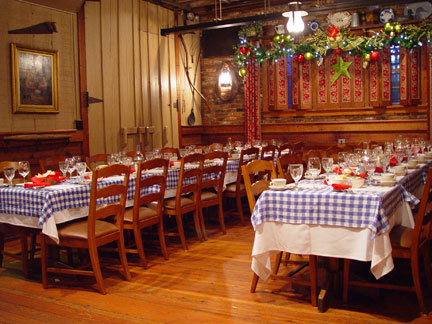 After Alice's death in 1997, Van and her husband, Steve, began plans to expand the cellar and to add a second dining room created from a storage room beside the first. Upon completion of construction, it became necessary to name the dining rooms. What better way to memorialize the beloved couple who made everything possible than to name the first, slightly smaller dining room after the diminutive, graceful Alice
Entering Thad's Room is both a reverent and thrilling moment. Not only are you enthralled by the enormous dimension of the table that seats 36, you feel steeped in Thad's life as a tireless collector of artifacts and antiquities. The décor features antique stained glass from Europe once used in one of the Darryl's restaurants. The bar originated in an old drug store in Smithfield, North Carolina.

Perhaps no antique in the entire Barn widens eyes more than the massive, 17th century sideboard acquired by a High Point antiques dealer. The dealer, who had once helped Thad acquire antiques for the Darryl's chain, explained that she had purchased it in Europe with Thad in mind at the time that he was renovating the Dodd-Hinsdale House in downtown Raleigh that is now Second Empire Restaurant and Tavern. In fact, the sideboard was crossing the Atlantic at the time of Thad's death. When she learned that Van and Steve were building a second wine cellar dining room in memory of Thad, she knew that the sideboard would be a perfect, commemorative furnishing. Van delighted in the discovery of the impressive antique and placed it in Thad's Room with the same loving care that her late mother, the gifted decorator, would have. Today, sitting on the shelf of the sideboard that's dated 1652, you'll find a crystal decanter filled with Dewar's White Label Scotch, a lasting reminder of Thad's incomparable hospitality. The decanter was awarded to Thad, Jr. for serving as the president of the National Restaurant Association.
With two stately dining rooms commemorating the late Eures, Van and Steve reasoned that the most resourceful addition to the wine cellar dining rooms would be a kitchen. For such elegant, awe-inspiring dining rooms, not just any kitchen would suffice. Why not a kitchen accessible to wine cellar guests including a Captain's Table where two to four guests could witness the preparation of food? Why not ask Chef Walter Royal to plan the kitchen with his right-hand team, chefs Jim Long and Jimmy Alfano? Within months, the specially designed kitchen, featuring top-notch South Bend equipment, became reality.
Today, the Wine Cellar Kitchen bustles with reserved dinner parties prepared by Cellar Chef Jimmy Alfano; special events; and Chef Walter Royal's Teaching Kitchen, a program designed to bring his vast expertise to novice cooks and apprentice chefs. With the completion of the Wine Cellar Kitchen, another chapter in the long, rich history of the Angus Barn began and Thad's lifelong vision was fulfilled.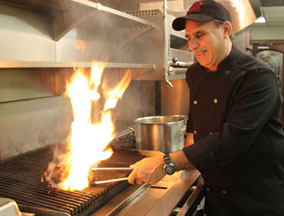 Henrietta Mears wrote that hospitality should have no other nature than love. In the loving spirit of Thad and Alice Eure, welcome to their Wine Cellar Dining Rooms!
Making a Reservation
Dinner Selections
Innovative Gourmet Cuisine
Six courses of food / five different wines: $145.00
Five courses of food / four different wines: $125.00
Four courses of food / three different wines: $100.00
Prices do not reflect the 7.75% Wake Co. sales tax and gratuity. There is traditionally one server per five guests. Guests have the opportunity to select courses from our cellar menu. The dinner is a "fixed menu", meaning all guests have the same item for each course, but hosts may pick their menu with confidence, knowing that we can handle any special dietary needs that will suit their guests. Final menu selections must be called or faxed in at least 10 days prior to your party date. Please be aware that selected accompaniments may change at the chef's discretion, without notice, to ensure freshness and availability.
Wine Selections
The Cellar Coordinator pairs wines to match each course perfectly. Hosts are quite welcome to assist in the wine selections. There is a per bottle surcharge if the host selects a wine that exceeds the wine allowance.
Click to view our full wine list. Click to view our wines by the glass list.
Pre-dinner Social
A private bar in the wine cellar dining room is available with your choice of full spirits, beer & wine. The host may also choose to offer guests champagne only. There is no additional charge for the bar or bartender, and the orders will be added to the check.
Final Arrangements
All menus must be submitted to the Cellar Master at least ten days prior to the party date. The final count is required at least 48 hours prior to the party.
Payment methods
We accept all major credit cards and cash.
Special arrangements
We can assist the host with many final details: fresh flowers, Audio / Video equipment, transportation recommendations, live music, seating, and name tags.
Wine Cellar Tours
The Angus Barn owner may choose to bring a few guests to the cellar for a private tour. These tours will be done discreetly and are not available to the general public.
Luncheons & Brunches
We also offer 3 & 4 course French Cuisine luncheons & business brunches.
Booking Your Event
Request information about hosting your event, dinner, or special occasion today or call our Cellar Coordinators, Kelly Joslin, at 919.787.3505 or voicemail 919.571.7943 ext. 268 (kelly.joslin@angusbarn.com) or Tiffany Moore at 919.787.3505 or voicemail 919.571.7943 ext. 298 (tiffany.moore@angusbarn.com) for reservations and further information.
Please visit our events page to view special event wine cellar dinners. These events are open to the public and feature gourmet themed dinners such as the last dinner served on the Titanic.