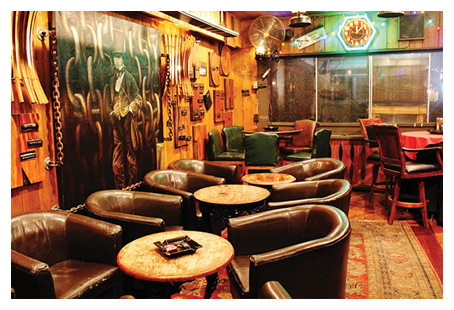 Where would the Angus Barn be without its contingent of tobacco enthusiasts who have made our humidor a top destination for selecting premium cigars? On January 1, 2010, after two previous attempts by the North Carolina legislature, a new law prohibiting smoking in bars and restaurants became effective. While some cheered the law, plenty were shocked. For those who still relish cigars during social discourse, we offer a gift: the Meat Locker at the Angus Barn.
The challenge was how to accommodate the Barn's loyal patrons who smoke and still respect the new law. Using a pre-existing space on the outside of the restaurant overlooking Glenwood Avenue, Van eyed the prospects of converting this remote area once used for meat refrigeration into an open-air smoking lounge and patio in the summer of 2009. She turned to master carpenter Dan Callahan to work his magic. Between Van's imagination and Dan's construction skills, smoking patrons of the Barn would soon find a home where their appreciation for tobacco, great food and spirits flourished.
According to foreman Dan, reconstructing an old structure requires a boss who appreciates his ingenuity as well as a good work crew. "Van had full confidence that I could take remnants of the old meat locker and convert it into a lounge and patio in the Barn's unique style," said Dan. From floor to ceiling, every inch of the former meat storage area was redesigned to accommodate two open ends for maximum air ventilation. Ceiling fans were added to increase air circulation and outside awnings were added to prevent rain from spoiling guests' smoking pleasure. Heating units were installed in the ceilings. The original, heavy door that separated the former meat locker from the rest of the Barn remains. Finally, North Carolina's only in-house outhouse was constructed just feet from the door of the Meat Locker.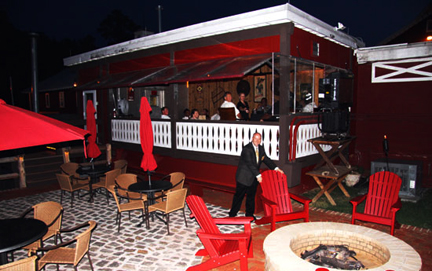 Van decorated with antique pub tables, thickly-cushioned chairs and church pews found in the former chapel of a local church. A large-screen plasma television is perched just above the door with a sound system to keep sports enthusiasts and event-conscious patrons tuned to their favorite programs. Just below the Meat Locker is the scenic patio featuring a floor made of stones that once covered the original streets of downtown Raleigh, crafted by stonemason Manuel Corona. Adirondack chairs and a fire pit invite guests to take in the view overlooking bustling Highway 70 while sipping cognac and cocktails and smoking their prized cigars and cigarettes.