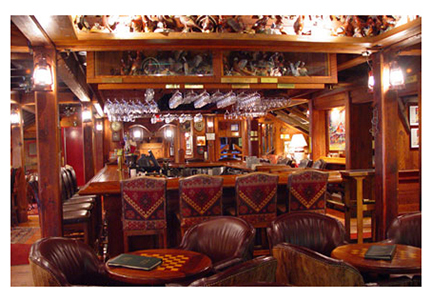 The Wild Turkey Lounge offers a light menu and full bar selection of spirits and mixed drinks
View the entire lounge menu View our wines by the glass
View our full wine list
The Wild Turkey Lounge History
In November of 1984, an enlarged lobby and the Wild Turkey Lounge opened to accommodate customers waiting to be seated. The Wild Turkey Lounge earned its name from the extensive collection of Wild Turkey decanters. Over 600 decanters are displayed, deeming it the largest private collection in the world.
This area was once used for the offices of the Angus Barn, but as business grew beyond the huge dining area, Thad felt the need for the lounge to accommodate waiting guests. An avid collector of many things, Thad had a large assortment of Wild Turkey decanters kept at home. As he and Alice prepared to move to a new house, she suggested that the decanter collection be left behind. Thad saw this opportunity to add yet another unique twist to the Angus Barn and The Wild Turkey Lounge was born. Since the collection moved to the lounge, it has grown quite a bit and now numbers over 600 bottles.

The Wild Turkey Lounge is open 3:00pm-11pm Monday through Saturday • Sundays 3pm-10pm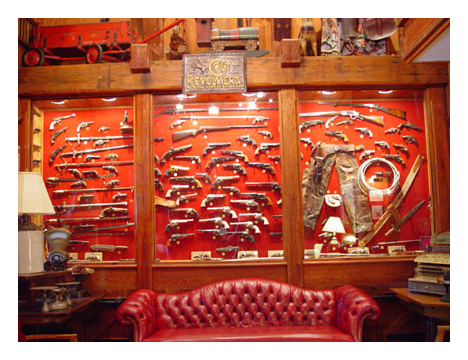 The Gun Collection
The west wall of our waiting room houses one of the largest collection of single action colts on the east coast (single action means that unlike the modern revolver these guns had to be cocked before firing). These are guns and memorabilia that were used by real cowboys, those that portrayed them, John Wayne, Clint Eastwood, Tex Ritter and one that belonged to a pioneer of music, Hank Williams, Sr. There are several Navy Colts, and the "gun that won the west".
The Humidor
"Light one up"— The walk-in humidor carries over 85 facings of premium cigars with a quantity of 1700, including our own private label cigar. The humidor has limited, private cigar lockers for avid cigar smokers which are perfect for out of town guests. Larry Armstrong, bartender and very talented carpenter, actually built this humidor for the Angus Barn. It was originally the wine cellar housing only 300 bottles.