The Patio

The Patio, adjacent to The Pavilion, is an excellent area for greeting guests & cocktails. Tents are available to expand the seating area up to an additional 250 people. Prices are quoted upon request.
The Terrace

Our stone-paved Terrace sits lakeside and holds up to 200 people. It is the perfect place for wedding ceremonies and social events. Tents are available and prices will be quoted upon request.
Wedding Gazebo

Our wedding gazebo is located in the woods beside the pavilion and holds up to 175 people. A great shaded area for wedding ceremonies and social events.
The Veranda

Our 90 x 30 ft. brick-paved Veranda sits on the lakeside of the Pavilion and is great for socials, cocktail hours, lounging, and corn hole games. Tents are available to expand the seating. Please inquire about costs.
Pavilion Dining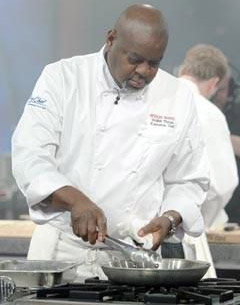 For all the history and 60 years of Angus Barn folklore that surround you, once you're at The Pavilion, your nose and your taste buds sense "Iron Chef America" champion and 1997 International Five Star Chef of the Year
Walter J. Royal's
culinary magic. "Professional chefs are rarely completely satisfied because they're perfectionists," according to Walter. Although his mind may be totally focused on pleasing guests, his imagination is always at work, thinking of new culinary treats. So rest assured whatever menu you choose it will be one to remember.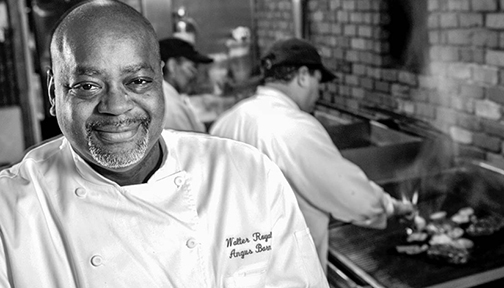 Is there anything more irresistible than the breeze by the lake wafting the scent of aged tenderloin as it slowly grills or the deep ruby color of the perfectly matched California claret in hand as you welcome guests to your special event? Every dish at your event is expertly prepped in the Angus Barn kitchen by our award-winning culinary team. Dishes are finished and plated at action stations in The Pavilion kitchen and its outdoor grilling stations. In every sense, The Pavilion is an extension of The Angus Barn.
We offer several different styles of service including Station, Plated, and Cocktail style

Station Style Service: A wide selection of action stations are available that include carving, pasta, seafood, southwestern, and antipasto style.



Plated Style Service: A more formal style of service with a wide array of choices that include many Angus Barn signature favorites. Generally, these include three courses with wine pairings.


Cocktail Style Service: Ideal for stand up social events, this includes a larger selection of butler passed appetizer style offerings.


The Angus Barn is the exclusive caterer for all events. We do not allow outside food and beverage vendors. Wedding cakes are the only exception and must be from one of our approved vendors.


Service Charges & Sales Tax
There is a 20% service charge for all food, beverage, and items exclusively ordered through The Pavilion, plus any applicable sales tax.
Count Guarantees
Must be communicated and finalized 15 days prior to wedding date or 7 days prior to corporate event.  Final count is not subject to reduction unless approved by your Pavilion Coordinator only.
Facility Fees & Dining Minimums
Please call 919-987-1264 or click here & fill out an informtion request for more information.


Entertainment, Decorations, Wedding Cake
All must be pre-approved by our lists of select vendors. Wedding Vendors • Corporate Vendors