"OK, so we're sending you to a big, red barn--really, a big, red barn--perched on a commercial strip above Highway 70 and telling you that this is the best place to strike a deal in the entire Research Triangle. The Wild Turkey Bar & Lounge has been a cross-sectional hotbed of local politicos, big pharma executives and tech tycoons since it opened in 1984. "
– Entrepreneur Magazine - July 2010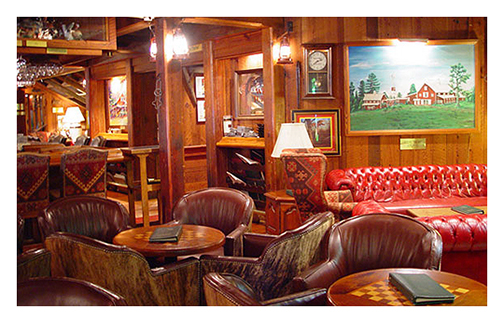 The Lounge serves dinner beginning at 3:00pm. All entrées come with your choice potato and salads are not included. Sandwiches are served with choice of potato.
The Wild Turkey lounge also features an extensive list of premium liquors & cordials and one of the finest wine lists in the US. The Angus Barn is a supporter of North Carolina crafted beers and features them regularly on draft and in the bottle.
Seating in the lounge is first come first served basis, no reservations.
Current Features:
Limited Edition Bone-in Filet: 14 oz. bone-in filet mignon topped with fresh basil butter accompanied with sauteed mushrooms, blistered tomatoes and choice of potato. . . $72   

Argentinian Ribeye: Argentinian spiced rubbed 14 oz. Ribeye topped with caramelized peppers & onions with a roasted garlic gaucho gravy and choice of potato. . . $52

2022 Three Sticks Vineyards, Price Family Estates
Pinot Noir
Sonoma Coast, California
Bottle: $79. . . Glass (6oz): $20.75
This is a blend of Pinot Noir from 6 single vineyards sites owned by the Price Family. Full and rich mouthfeel, beautiful strawberry nose, bright and dense cherry flavors, leather and tealeaf on the finish. Lovely acidic structure that pairs perfectly with these features.