"OK, so we're sending you to a big, red barn--really, a big, red barn--perched on a commercial strip above Highway 70 and telling you that this is the best place to strike a deal in the entire Research Triangle. The Wild Turkey Bar & Lounge has been a cross-sectional hotbed of local politicos, big pharma executives and tech tycoons since it opened in 1984. "
– Entrepreneur Magazine - July 2010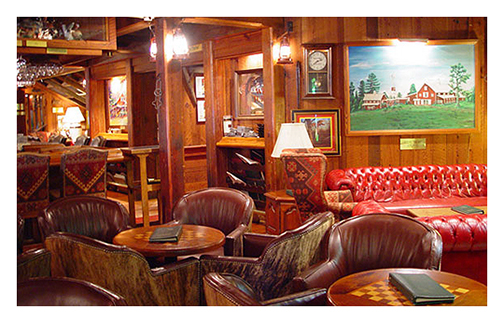 The Lounge serves a special menu beginning at 3:00pm. All entrées come with your choice potato and salads are not included. Sandwiches are served with thick or thin cut barn fries.
The Wild Turkey lounge also features an extensive list of premium liquors & cordials and one of the finest wine lists in the US. The Angus Barn is a supporter of North Carolina crafted beers and features them regularly on draft and in the bottle.
Seating in the lounge is first come first served basis, no reservations.
Current Features:
Chilled Seafood Tower: Jumbo lump crab meat, 4 chilled 1/2 lobster tails, 6 oysters on the half shell and 6 shrimp cocktail served with mignonette, cocktail sauce and mustard aioli. (no substitutions) Feeds up to three . . . $66

Cowboy Steak: 22oz Certified Angus bone-in ribeye topped with a roasted tomato tapenade and an Argentinian Criolla sauce . . . $65   

2020 Bodegas Salentein, Reserve 100% Malbec
Valle de Uco, Mendoza, Argentina
Bottle: $46 . . . Glass (6oz): $12
Barrel aged for 12-14 months, resulting in a wine with intense aromas of ripe plums, cherries and spice that are complemented by a hint of tobacco.