"The Angus Barn Experience goes far beyond serving meals...We are in the memory business - making and creating unforgettable memories for you - our guest. Thank you for choosing the Angus Barn to be part of the events that shape your life" – Van Eure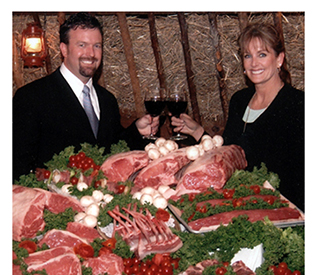 Angus Barn serves close to 20,000 aged & perfectly grilled steaks every month. Nine different cuts are available, with your choice of six different sauces and toppings. In addition, you'll find a variety of seafood and specialty dishes, plus our famous AB BBQ ribs and even a few vegetarian options. For dessert, try the award winning chocolate chess pie or blackberry cobbler. All carefully orchestrated by our very own "Iron Chef America" winner Executive Chef Walter Royal.

We are a proud supporter of NC agriculture and you'll find that many of the ingredients are grown and harvested right here in North Carolina. In addition all of our vendors are held to the highest standards possible to ensure nothing but the best finds its way to your plate.

All dinners come with your choice of garden salad, spinach salad, Caesar salad, wedge salad, French onion soup or our creamy tomato basil. Plus your choice of baked potato, stuffed potato, mashed potatoes, sweet potato, French fries or white rice. Bread and homemade crackers are served at every table.

Please Note:  We are reinstating our Dress Code.

We like to think of ourselves as fine dining with a rustic elegance. You may dress as nice as you like or business casual. No cut off shorts, tank tops, clothing with offensive graphics or language, revealing clothing or exposed undergarments. 

Cowboy hats, Fedoras, and Dress hats are allowed in dining rooms. Ball caps, Hoodies worn on head, and Toboggin/Beanies are not allowed in dining rooms. Forward facing Baseball caps are allowed to be worn in the Wild Turkey Lounge, Meat Locker, Outdoor Patio, and Saloon.

Current Features:
Surf & Turf Trio: 7oz. Bacon-wrapped Filet with a skewer of North Carolina Shrimp and Maine lobster tail. . . $64 

2019 Bergh Ludwig Zweigelt Niederösterreich: . . . Bottle: $35 . . . Glass (6oz): $9.75.
This beautiful organic wine has flavors of wild berry jam, dark ripened cherries followed by a vibrant acidity.